Auto Injury Treatment in Zephyrhills
Often, injuries incurred during an auto accident cannot be seen externally, such as soft tissue injuries (injuries to muscles, ligaments and discs) and can heal with scar tissue which can ache years later.
The damage to the spine can lead to recurring headaches, neck pain, stiffness, chronic muscle tension and spasms, lower back pain, spinal disc degeneration, inflamed arthritis, sore and tight inflexible muscles, a greater chance of repeat injury and aid in poor posture.
Auto Accident Symptoms
Some symptoms to look for following an accident include
Neck pain
Headaches
Muscle stiffness or spasm
Decreased mobility
Dizziness
Numbness or tingling in the arm
Nausea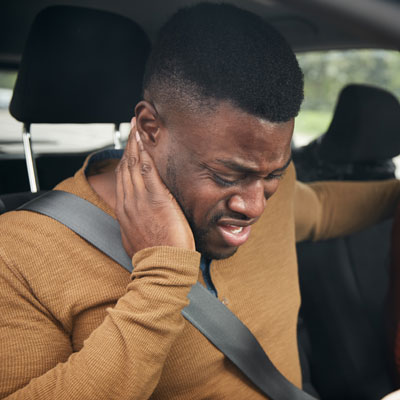 Whiplash Can Occur at Low Speeds
One of the most common injuries associated with automobile accidents, whiplash is the result of a hard jerk or forceful movement of the head and neck. If a vehicle comes to an abrupt stop, the head will continue to move forward at the same speed the vehicle was traveling before the accident.
When the head can physically go no further, it is jerked back with extreme force. This can have a damaging impact on the muscles, tendons, and ligaments of the neck and shoulders. This type of injury can cause extreme pain whenever the head or neck is moved in a particular direction.
Pay attention to more than just your car; you could have a whiplash injury even if your vehicle has little or no damage. Whiplash injuries can occur in accidents where the vehicle is moving as little as 5 mph, many times with very little or no vehicle damage. There can be a greater injury to the occupant if there is less damage to the car. Instead of the car being damaged and absorbing the force of the other vehicle, you do.
Florida No-Fault Law provides coverage of your medical bills under your auto policy regardless of who is at fault. Even if you don't think you're injured, it is advised to be checked out since many injuries don't exhibit symptoms until weeks or months later.
If you fail to seek an evaluation or treatment within 14 days, you forfeit ALL rights to the coverage that is allowed to you. If we determine that you have no injuries, then you will at least have the peace of mind that you should not suffer any long-term effects as a result of the accident. Many people fail to get evaluated within the 14 days' time frame and later realize they are hurt. It's better to be safe than sorry when it comes to auto accident injuries.
Integrative Health & Wellness Center understands how a car accident can dramatically affect your life. Our devoted and experienced doctors know how important decreasing your pain and the value of improved mobility is after an accident.
Regain Mobility and Recover Faster
Our Zephyrhills chiropractors are here to develop a comprehensive treatment/care plan utilizing scientifically proven methods to help those soft tissue injuries, and even relieve them completely as a result of an automobile accident.
If you've been in an auto accident, it's important to seek care right away. Contact our Zephyrhills practice to schedule an appointment!
CONTACT US

Auto Injury Treatment Zephyrhills FL | (813) 355-4061